The Importance of Having an E-commerce Mobile App Development for a Store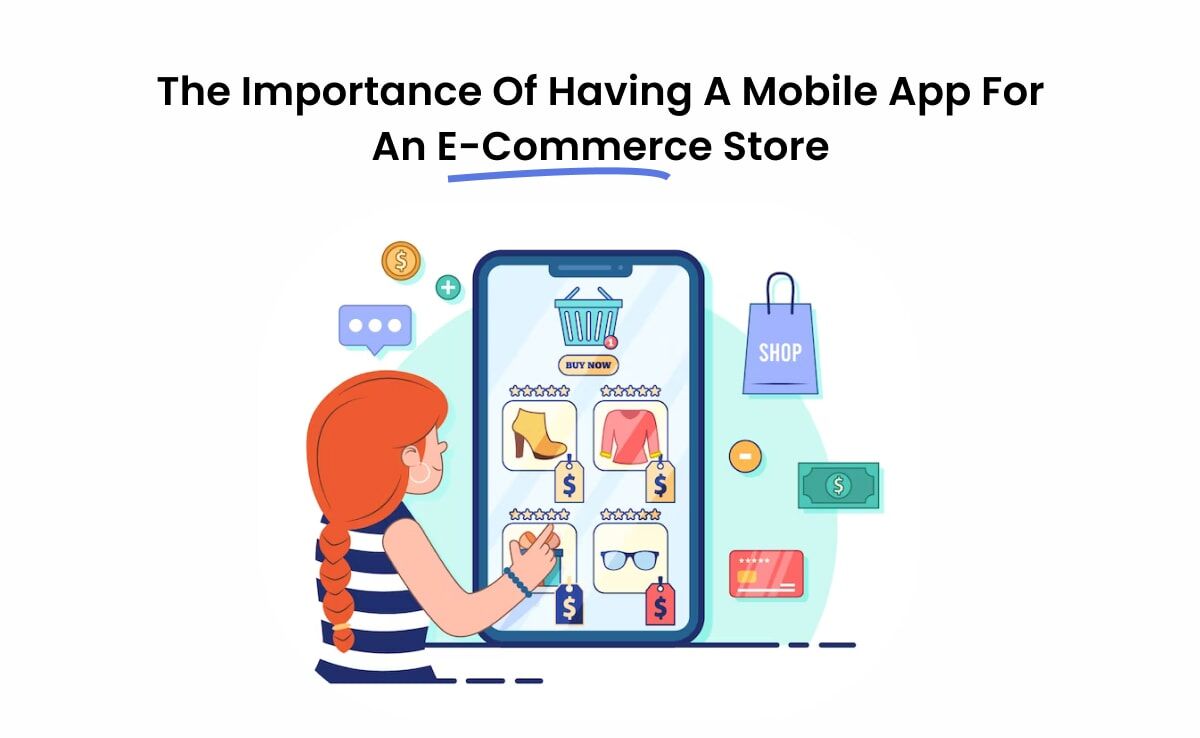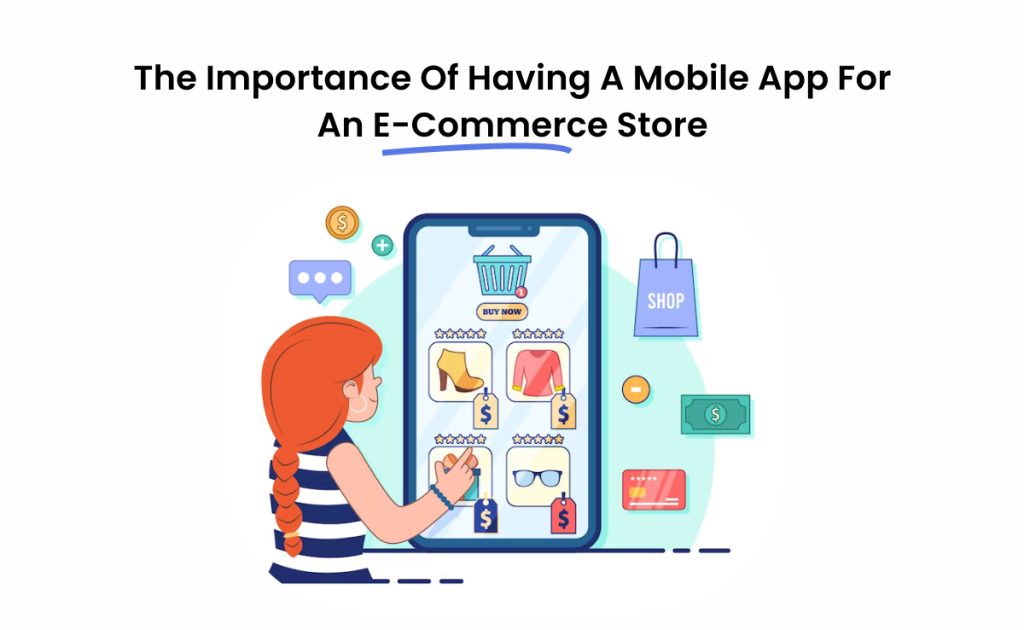 E-Commerce mobile app development is crucial in today's tech era, facilitating seamless connections between businesses and clients. These apps ensure 24/7 access to relevant information, empowering customers and enabling entrepreneurs to stay connected at all times.
Therefore, e-commerce mobile app development for businesses has become a trend in the current era. There is so much demand for these types of mobile apps that they are constantly evolving with added features and the like. E-commerce mobile apps are believed to supersede all other apps because of the demand they have and the benefits that they provide both businesses and customers.
In order to truly identify the value of e-commerce mobile app development for businesses, it's essential that you look at the features of mobile apps and how they are being developed in the modern day. These factors help identify the way mobile apps drive e-commerce businesses and how they can work towards the growth of the industry and, as a result, the economy.
Statistics That Reveal The Importance Of E-Commerce Mobile App Development For E-Commerce Stores
E-commerce mobile app development help companies better understand their clients through improved access, increased response times and better online shopping experience. Mobile apps are expected to take over all other forms of assistance and provide clients with a one-stop solution. For example, the use of personal computers to connect is now deteriorating at a fast pace. Instead, smartphones and other smart devices are slowly replacing this position.
Mobile apps have taken over the corporate world in an unbelievable way. By the end of 2022, approximately 6.65 billion people worldwide are using smart devices like smartphones. It means that 83.4% of the world population has given in to the trend and is using smartphones to connect with each other. This trend is expected to rise in the coming years, especially with new introductions to the world of smartphones and mobile apps.
With e-commerce trends evolving, researchers predict that global e-commerce sales will add up to $6 trillion in 2024. With the evolution of online businesses, owners now want their customers to feel connected and have control over their share of the business through mobile apps.
Trends In Mobile E-Commerce Apps
The sky's the limit when it comes to technology in use in e-commerce business. People are constantly shopping for things that they want to purchase and the online platform makes it easy to peruse what's currently available in store. The power of the internet has enabled it to reach audiences in every corner of the globe.
Mobile e-commerce is poised for further growth. The following table shows the growth of the mobile e-commerce industry in the past years.
| | | |
| --- | --- | --- |
| Year | Total mobile e-commerce sales (in trillion $) | Mobile as share of total e-commerce |
| 2016 | 0.97 | 52.4% |
| 2017 | 1.36 | 58.9% |
| 2018 | 1.80 | 63.5% |
| 2019 | 2.32 | 67.2% |
| 2020 | 2.91 | 70.4% |
| 2021 | 3.56 | 72.9% |
Source: Statista
The above table clearly shows the growth of the use of mobile platforms in e-commerce business and its overall impact.
Below are the statistics that reveal the importance of mobile platforms in the e-commerce world.
Consumers in the US compare prices using their mobile phones even while shopping in-store.
Approximately 35% of US customers use their mobile devices to purchase products online.
Approximately 72.9% of e-commerce sales were generated via mobile in the year 2021.
Approximately 78% of users prefer accessing a store through mobile apps even when there are mobile websites.
Approximately 50% of the revenue of an e-commerce store is generated by 10% of its consumers.
In simple terms, mobile apps have taken over the lives of many people all over the world. A recent study has found that 96% of adults in the US own a mobile phone. Out of this, 81% of the people own a smartphone, which is how they deal with their day-to-day lives at various levels. If you simply look around you, you'll see that almost everyone is glued to these devices that are part of their lives. People are so attached to smartphones that they cannot live without these devices.
It is expected that within the next three years, mobile commerce will control almost 73% of all e-commerce sales and online shopping across the world. Mobile shopping apps are growing at a rate of 54% year-over-year. It is the highest rate compared to all other app classifications.
15% of adults in the US are "smartphone only" users, which means that they don't have conventional broadband home service. It shows how much of an impact technology and smartphones have had on US households.
Why Do Businesses Need An E-Commerce Mobile App?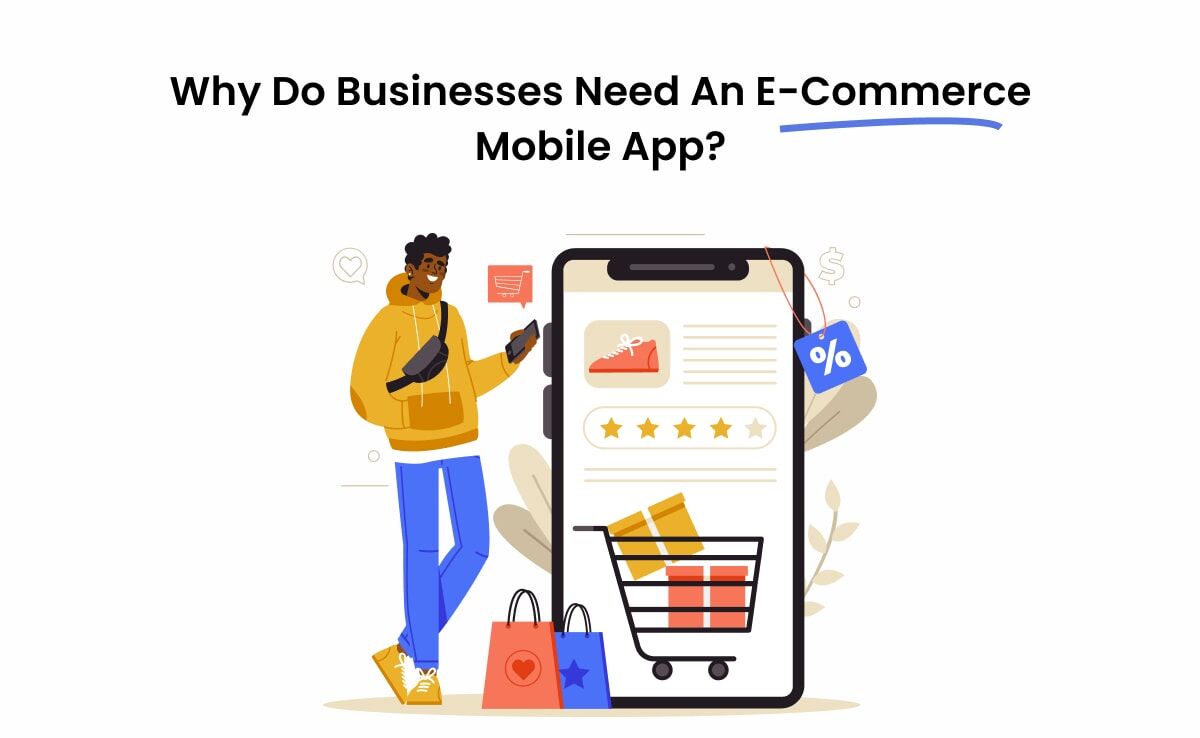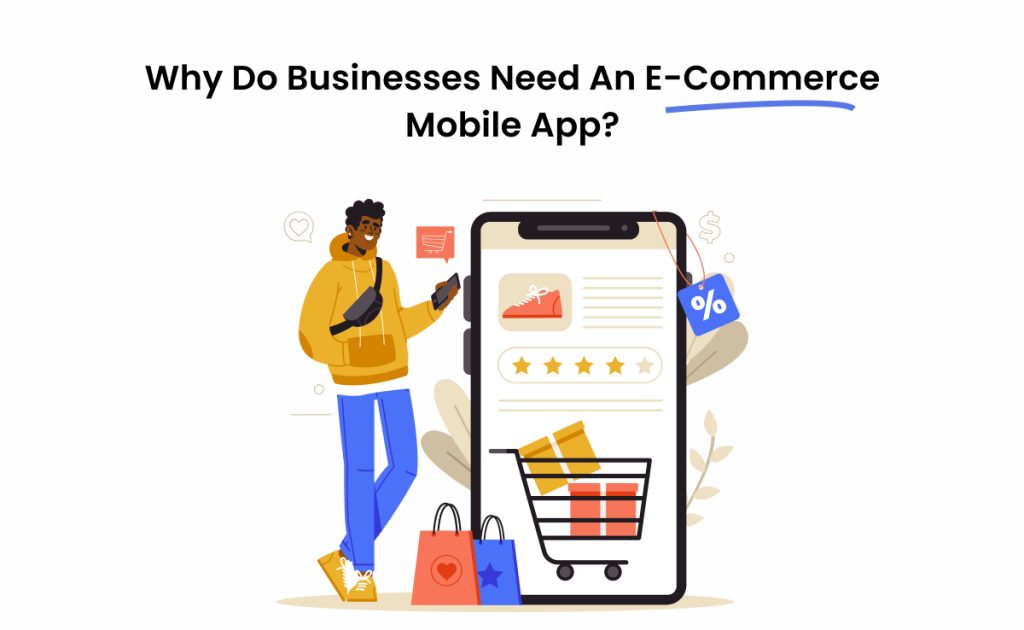 With so many websites and even mobile-friendly ones, the question is if e-commerce mobile apps are actually required? Why don't users simply use the mobile versions of websites? In comparison to websites, users in modern-day prefer mobile apps, especially for things like shopping.
As potential customers are constantly on the rise, mobile app development companies are continuously introducing more apps to serve the rising demands. A presence in the online marketing arena is a basic prerequisite for expanding a business and maintaining a competitive edge in the business world.
A small percentage of organizations still don't understand the importance of mobile application development and its uses and the impact they can have on growth of the business. Mobile apps for e-commerce helps increase your clientele and lower your market budget.
Benefits Of An E-Commerce Mobile App Vs. E-Commerce Website
In this technologically advanced era, the importance of speed and responsiveness cannot be stressed more. Businesses need to be on edge in this highly competitive world. Therefore, it's crucial that your business is up to date with the latest happenings in the technological arena. You need to be in line with the current technological advancements in order to survive in the business world. This is where mobile apps come into play and here's why you need to consider integrating them to your business for better conversion rate.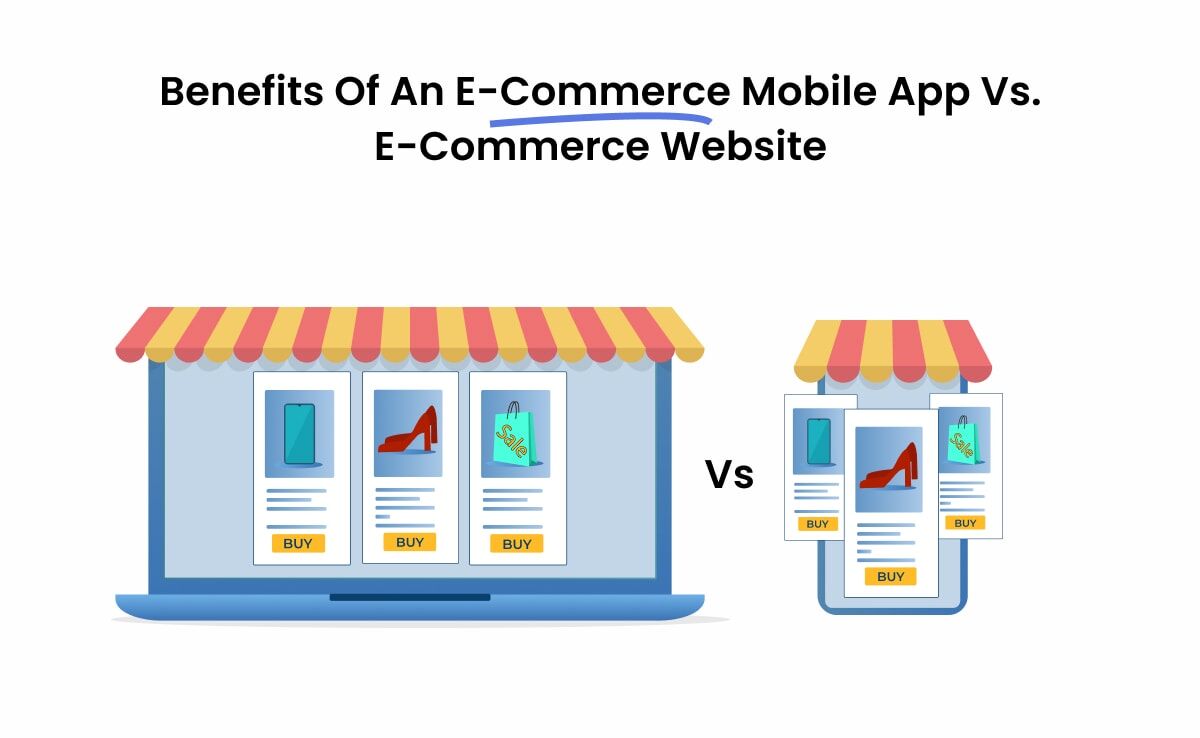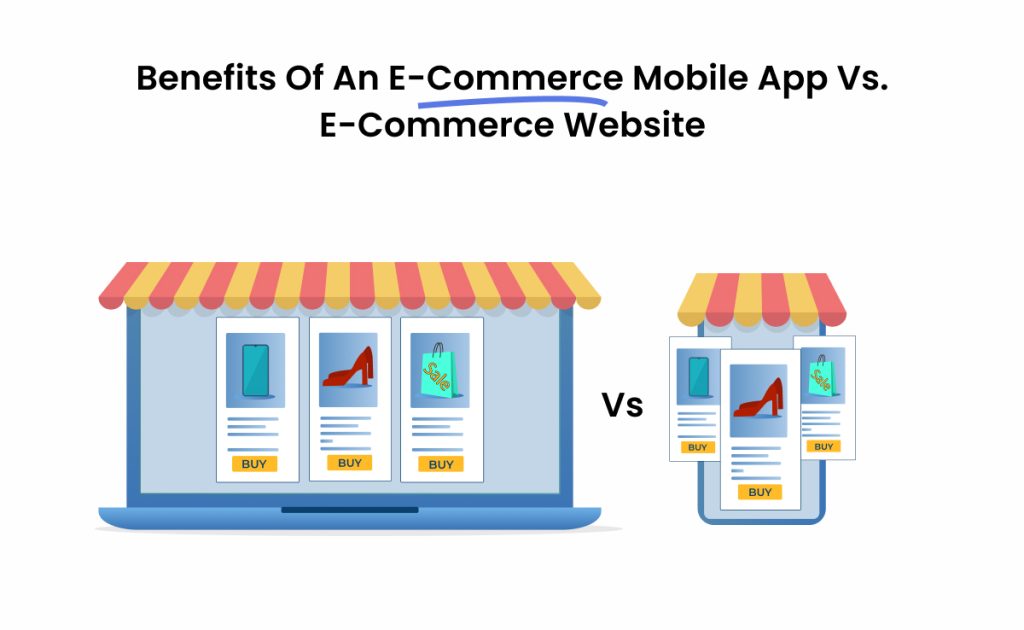 Speed Up Responsiveness
Mobile apps greatly speed up responsiveness. Responsiveness is a major factor that impacts the survival of an app. Even when customers browse websites, they need the pages to load at top speed. If it doesn't occur, users tend to move on to other pages. It is where mobile apps have an advantage over conventional websites that users view via web browsers in desktop computers or laptops.
Data extraction is much faster from mobile applications than from websites. Mobile applications take a much shorter time to complete an operation than the conventional method of using websites. When websites take a long time to load, customers get frustrated and they consider other options. This will most likely result in businesses losing their customers to competitors that are doing a much better job in serving their customers.
In this fast-paced world, everyone wants instant results. That is why responsiveness is critical for the survival of any business, and mobile apps can make it possible.
Anytime Customer Support Services
Customer service is of utmost service for any business. Businesses should focus on customer retention. Customers are the core when it comes to the survival of any business.
Today, customers rely on their smartphones for everything. From shopping to doing business, everything is handled via apps in smartphones. Mobile apps for businesses leverage the power of this possibility to maintain efficient and continuous user maintenance. It is where 24/7 customer support plays a pivotal role. Integrating customer-focused services and features in your business will help it grow altogether. In other words, the growth of your business is highly dependent on your customers, which is why you need to focus highly on customer retention.
Different technical features have enabled continuous customer support. Features like chatbots are technological breakthroughs that enable customer service to reach higher levels. Mobile apps take it a step further by enabling customers to connect with the business and ask for help any time they want to do so.
Use Of Built-In Tools To Boost Sales
The more features and integrations you are capable of providing the customer, the better the chances of boosting sales. This is another important feature with benefits when using mobile apps. Smartphones have many built-in apps that can directly boost sales. It also ensures better performance. Some of the most common built-in features that can help boost sales via mobile apps include cameras, microphones, planner, and Global Positioning System (GPS). The use of these tools provide the most cutting-edge connectivity and satisfying experience when users use your app for specific reasons. Applications that are facilitated by these elements seem to work well in bringing in sales.
Accessibility to these features is also vital to benefit the most from them. Mobile apps actually help provide great ease and satisfaction for all customers. This in turn results in a direct boost in sales for the business.
Secure Payment Methods
The payment method is also of utmost importance for any business. Customers want secure payment options when managing transactions online. They feel less secure when dealing with money over the internet.
The importance of e-commerce mobile app development with regard to payment is unmatched. Mobile apps enable seamless payment processes via protected payment services integration such as credit cards, debit cards, e-wallets, PayPal, UPI, and many more. Customers prefer to retain all banking details in the app as opposed to typing all the information each time when making a payment. It certainly makes way for a smoother process.
However, that doesn't mean that customers are ready to provide their banking details without a guarantee of security. All payment-related information is kept fully secured and offers a high level of data security and privacy. In addition, Fingerprint Sensor Technology has taken mobile apps one level up in reducing the risk of unauthorized use of credit or deceit card information.
Helps Collect Data From Customers
Mobile apps aid in data collection from customers to help businesses identify trends. Mobile apps make it possible and simpler to acquire user information and evaluate it to better understand customer habits and shopping behaviors and modify business operations accordingly.
Businesses can also introduce new things that provide benefits to customers. These include notifications to customers of the latest offers, discounts, coupons, and special deals, if any. These notifications can be customized according to individual preferences. This can be concluded by analyzing customer experience and how they have used the mobile app, such as what they purchased.
If you see a trend in using special deals and discounts, more focus can be given to that aspect. It also saves information like what kind of products the customer has bought often. Anything connected with such products or related products can be notified to the particular customers, as these products are of their specific interest and preference. This process helps increase conversions from the same visitors or customers by up to 7 – 12%,
Positive Impact On Building A Business On Different Media Platforms
One of the significant benefits of e-commerce mobile app development for e-commerce stores is the ability to integrate all forms of company communication. It helps costumes get in touch with the business and find out more information. The more customers get to know about a business, the direct impact it has on sales growth. Naturally, customers want to know more about a product or service which ultimately leads to the decision on buying it.
Customers want to get in touch with the business without any hassle, to find out the relevant information. Mobile apps make this a possibility. When compared with having a retail assistant to help customers, online connectivity and mobile apps are significantly more beneficial for businesses.
Answering promptly to customer queries is vital to maintain customer satisfaction. Customer satisfaction directly relates to sales growth. Therefore, all of these are interconnected, which is why it is vital to use technology to make it a seamless process for customers so that they'll come back for your business products and services.
Increased Brand Recognition
Mobile apps increase the visibility of a brand, hence aiding in increasing brand recognition. Brand recognition is vital for the survival of any business. It also happens to be one of the best advantages of mobile e-commerce. You need to bring your brand to the limelight and maintain its position. It is not an easy task unless you make an effort to do it.
Brands can easily connect with their customers through mobile platforms. It is because most users spend a lot of their time browsing on their phones. They spend hours on their mobile phones and are constantly connected with their outer world in this way. The smaller the screen the harder it is to read and watch, which is why mobile users prefer using apps. 32% of app users uninstall an app if they don't find it to be user-friendly and convenient. This in turn leads to a bad experience. Therefore, companies focus on creating user-friendly mobile apps to provide the best experience to their customers.
Improved Visitor's Engagement
There are many features in the users' smartphones that companies can make use of to increase consumer engagement and, as a result, their sales. The below features enable easy navigation and increased user engagement.
GPS: This app allows the device to collect information on the user's current location. It helps eliminate user shipping location, by automatically filling the form for the customers and asking for their approval.
Camera: The camera allows customers to take images of your products and publish them on their social media accounts. It is also a form of advertising that can impact sales and business growth.
Microphone: The microphone allows users to verbalize their thoughts and expectations to ease their search process.
Increased Loyal Customer Base
Having a large number of loyal customers is vital for your business. It can greatly help in increasing your sales and brand recognition. Customers spend hours on end on their smartphones, so you should ensure that your brand offers product details, contact details, and encourages them to purchase products. Below are a few ways that you can follow to boost your customer loyalty with a mobile e-commerce app.
Maintain an appealing design and layout on your mobile app so that your customers make it a habit to view your products. As a result, it will help maintain a constant brand value.
Maintain continuous customer support services between your brand and customers to answer their queries. It could be done via live chat or chatbot.
Make customers continuously use your app by introducing offers, discounts, loyalty programs, new collections, and bonuses.
Enhanced Customer Experience
Modern-day customers prefer a consistent and personalized experience all throughout their dealing with the brand. The use of websites is not sufficient to achieve this goal. You must go for mobile apps to make this a possibility in order to make your customers to be repetitive.
To achieve this, companies need to combine new technologies including machine learning, artificial intelligence, and virtual reality, with mobile e-commerce applications. It will help you find out the answers for questions like the ones given below:
What do customers prefer?
What time do they opt for when buying online?
How much time do they take to make the final call on buying?
The answers to these questions will help you offer customers an enhanced shopping experience to increase your sales.
Increased Average Order Value
Below are the factors that motivate customers to spend more while shopping via a mobile e-commerce app.
Easy payment methods: Purchasing through mobile apps allow customers to choose from multiple secure payment options. They can even add a card if they want speedy transactions.
Push notifications: These notifications alert customers about deals, sales, discounts, or when a product is back in stock.
One-click ordering: E-commerce mobile apps have a simple layout that makes checkout easier such as the use of a single button for one-click ordering option.
Higher Conversion Rates
The use of mobile apps for e-commerce stores has proven to show higher conversion rates compared to the use of web technologies. The app vs. mobile web conversion rate difference equals to 157%, which is quite significant.
When customers think of shopping online they prefer to have a smooth overall process from the beginning to the end. One of the best ways to fulfill this customer expectation is to use a mobile app. Here's why it is so:
It saves customer-related details like personal information, and payment and shipping details that help make the checkout process easier.
Mobile features like push notifications help in conversions.
Features like cameras in mobile phones are used for placing orders.
Mobile e-commerce apps allow for the integration of mobile wallet applications that enable a one-step process for checkout.
Reduced Cart Abandonment Rates
Past records of shopping done via websites and mobile apps show a significant difference in terms of cart abandonment rates. Mobile apps are shown to have lower cart abandonment rates mainly due to the easy checkout process. Mobile apps store customer details, and payment and shipping information that enable a one-click checkout process for users. Here's an outlook on the cart abandonment rates for different applications:
20% shopping cart abandonment in mobile apps
68% shopping cart abandonment in on desktop websites
97% shopping cart abandonment in mobile site
Most of the time it is because users don't know what they need and they access a web store and end up with incomplete purchases. On the other hand, customers who access e-commerce stores via mobile apps come more prepared and may end up making purchases. It is why there is a significant difference between mobile apps success rate compared to that of desktop websites and mobile sites.
Personalized Shopping Experience For Consumers
One of the major benefits of e-commerce mobile app development for an e-commerce store is the personalized shopping experience that it provides its customers. Nothing can match this kind of personalization that you can't find in web versions. At least, they are not as good as the type of convenience that mobile apps provide customers.
In mobile apps, you can include things like related suggestions and highlight features to provide customers a personalized shopping experience. You can do this by taking advantage of the details customers offer in the app. These details can be converted into a form that enables them to be used for future purchasing of the respective customer.
The use of mobile apps makes things much easier for customers. Customers want this type of sophistication and ease that they can easily find through the use of mobile apps.
Increased Retention Rates
Client retention is something which every business wants assurance in. The more you retain your clients, the better it will be for your business. Your sales will increase and help your business grow. Here are some of the ideal ways to increase client retention with mobile apps:
Reward system: Reward systems make customers come back to your mobile app to make purchases. Everyone wants the maximum benefit from every cent they pay, so it is natural that they will be inclined towards businesses that reward their purchases. It can be through a points system or instant prizes that make them come back for more.
Exclusive content: Exclusivity is a must to retain customers via mobile apps. You may implement offers that may be available only via the mobile app. It makes customers install the app and make purchases that are not available in any other way.
Enhanced customer support service: Good customer service can go a long way in helping your business grow. Customers are the core when it comes to growing a business, so satisfying them should be one of your primary focal points. There should be perfect communication between customers and the e-commerce store. Also, customers should be offered solutions to their problems through different technologies like chatbot.
Improved Efficiency And Increased Revenues
A good mobile app with the right features and concept attracts more customers. More customers mean that there are more orders, which results in a direct increase in profits. In addition, with push notifications, businesses will encourage customers to make more purchases that provide more value for their money.
Mobile payment volume is expected to increase tenfold by 2024. Its average annual growth rate is calculated to be 62% which is towards the higher side. This value shows the impact that mobile apps have had on increased revenues. The improved efficiency in handling customer purchases is one of the primary reasons for this increase.
To achieve this, it is vital to have the right type of functionality in a mobile app. The mobile app should be able to meet the customer expectation in a simple way.
Features Of An E-Commerce Mobile App Development
There are several features that an e-commerce mobile app development must have to succeed in the business world. Given that people are very much connected to the world via smartphones, businesses need to ensure that their customers get the utmost comfort when making purchases via mobile apps. Therefore, it's essential to ensure that the following features are available in a mobile app for an e-commerce store.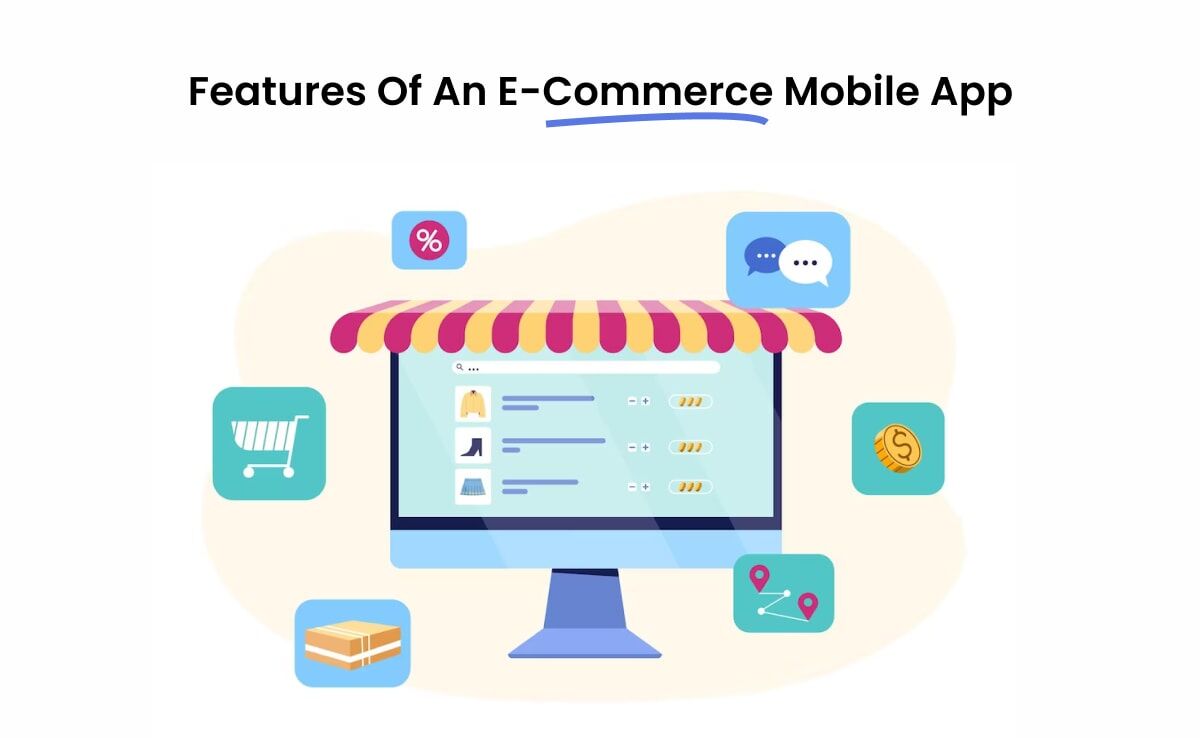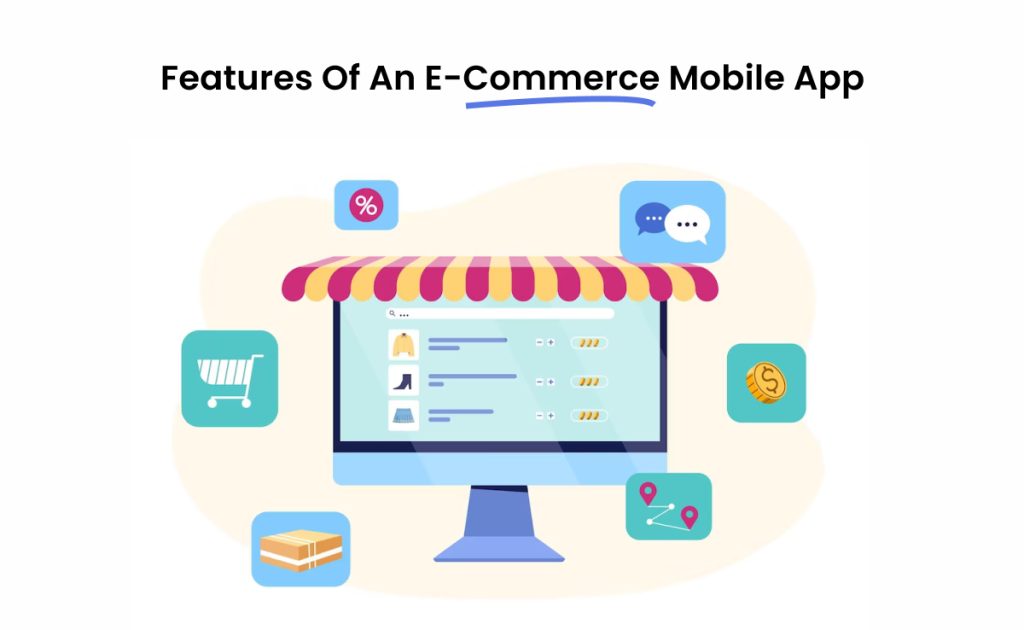 Simple Registration Procedure
Most online users complain of the time they spend filling up registration forms when signing up for different websites for various purposes. It shows that people are very reluctant to spend a lot of time filling up forms. Instead, they are looking for ways to make the process much simpler and less time consuming.
An app with a simple registration process is user-friendly and accessible, which is what users want when making a purchase via a mobile app. Customers are glad that they don't have to fill in a lot of details to enjoy the facilities of an e-commerce mobile app.
It leads to high customer satisfaction rates which is greatly beneficial for the business. It is what businesses need to target to achieve, also in terms of customer retention.
Secure Payment Option
Having a safe payment method is a must when dealing with any online platform. It remains the same when purchasing items via an e-commerce mobile app. Along with security, customers should also be given the freedom to choose any payment method they want. All of these payment methods should be appropriately secured to provide the customer the confidence to complete the transaction.
Customers will typically count on well-known applications and systems because the payment process requires providing sensitive banking information. Customers will generally finalize the purchase and return to your e-commerce store only if you offer a fast and secure payment method. In addition, the spending trends and frequency increase with the implementation of one-click secure payment.
Product Catalog
People buy what catches their eyes. So, it's crucial to have a product catalog that gives every detail about products along with their images. Visually appealing formats could direct customers towards your e-commerce store. Users will browse the product catalog and decide which one to purchase based on the description or image. It's also essential that your app provides an excellent UI/UX interface and simplicity of use.
Product portfolios with relevant descriptions allow customers to evaluate a product from different angles and feel more confident of their final choice of purchase. The product catalog should be visually appealing and easy to browse. That is why many mobile e-commerce apps in modern days see product catalogs on display, providing customers with all types of information about business products and services.
Internal App Notifications
Notifications are one of the best ways to engage with your customers. They guarantee the most involvement of customers and also ensure that the interaction is efficient. These features are vital to boost customer experience, which in turn helps businesses retain customers. Customers will come back to your mobile app when they require the product or service that you sell. These notifications are vital for customer retention. They serve as consistent reminders about your app to your customers.
These notifications could inform your customer about new products, sales, prices, delivery updates, and personalized or time-limited incentives. People are more likely to view your app when they are notified of these factors. Returning of customers means an increase in revenue and optimization of conversion rates.
Checkout Cart
The checkout cart is the final part of the connection between the customer and the e-commerce business, for that particular transaction or operation. Therefore, businesses should ensure that this feature is optimized to ensure that customers actually checkout without abandoning the cart.
The shopping cart assists customers in making decisions regarding saving money and providing versatility. It happens during the last stages of a judgment call, which is the most vital part of the operation. This feature provides a great customer experience by improving efficiency, saving time, and making the purchasing procedure straightforward.
Ultimately, the customer gets what he wants and your business generates revenue through the use of the checkout cart feature in your e-commerce mobile app.
Augmented Reality
In modern times, shopping experiences are being led by features like augmented reality. These features are actually dominating the e-commerce industry in 2023. Customers can easily interact with the products of a business over a smartphone display.
Users can view products of a business and see how they appear in real life with technologies such as augmented reality. Leading e-commerce businesses have now integrated AR into their mobile apps. The investment they have made in this technology will definitely pay off, although creating AR apps require specialized knowledge and skills in mobile app development.
Integration of modern and advanced technology will always benefit businesses in a positive way and will continue to do so for the coming years. It is crucial that businesses focus on this feature when moving forward with mobile apps for e-commerce.
Efficient Customer Support Service
The customer support feature of a business has always dominated its presence, be it in web or mobile formats. It's vital that a business focuses on its customers and gives them preference above everything else. Therefore, e-commerce mobile app development should focus on efficient customer support services to provide the best assistance to customers. It should integrate all of the essential features of a successful customer support app, in one platform.
Achieving this will have a great impact on sales and business growth. Customer satisfaction stands in the lead when it comes to growing a business. The future of mobile apps for ecommerce stores greatly depends on the improvement of this feature.
Delivery Status Monitoring
Customers want to constantly be connected with their purchases and the status of their transactions. Buying products online is completely different from buying the same with your physical presence. Therefore, people do have questions with regard to how successful their transaction is and the status of their product purchase and delivery procedures.
A good mobile app for an e-commerce store will provide delivery status monitoring so that all of these questions will be answered to the customer. Customers can determine when and at what time they will receive the product. Precise and swift monitoring solutions ensure that customers continue to receive excellent service even after they buy the product. It is exactly what customers expect from an e-commerce store. They certainly don't want to be ignored or abandoned once they complete the transaction but have not received the product yet.
Rewards Programs
Appropriate reward systems are essential for the longevity of any mobile app for an e-commerce store. This feature is essential for customer retention and also to introduce more customers. It has a direct impact on sales growth.
Mobile apps should have features that detect loyal customers based on their purchase amounts and frequencies. These apps can then determine what sort of rewards to present for loyal customers. Apart from that, ordinary customers may also have a rewards system that is able to provide more value for their money. Everyone wants to get more for what they pay and the best way to do these is by rewarding every customer possible. The rewards system will also help spread about your e-commerce mobile app, which will attract more customers, both direct and organic, towards your business.
Special Discounts For Loyal Customers
This is an added feature to the above on introducing rewards systems. Apart from normal offers and the like, regular customers should be treated at a higher level. These are the customers who come back to your app to make purchases. They are able to bring you business while also spreading word about your app to others. Therefore, it's vital that you treat these loyal customers well.
Introduce special discounts that are only accessible to frequent customers. Mobile apps can also have the feature of enabling a loyalty program that identifies a customer with a unique identity and opens up the special discounts section for the particular individual.
Steps To Take When Developing A Mobile App For An E-Commerce Store
The idea of developing a mobile app for an e-commerce store may sound daunting at first. However, it is easily achievable as long as you follow a few of the most essential steps related to it. Companies can develop mobile apps from scratch or build on an existing app.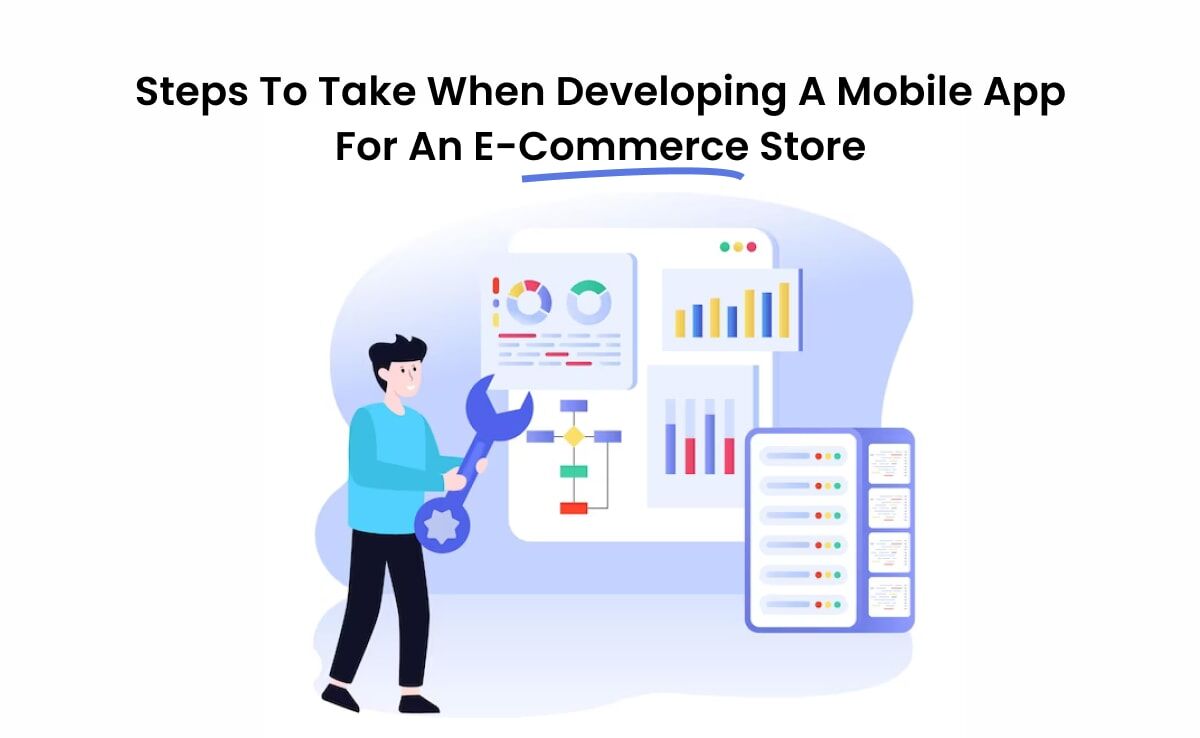 Identify The Goal Of The App
Before developing any kind of software, it is vital to identify the objectives of it. Not being specific on the objectives often lead to failure of developments, which is an essential part of the process. The effectiveness of how much the mobile app can meet its objectives determines its success. Therefore, it's vital to have clear goals that are achievable before starting to develop a mobile app for an e-commerce store.
You need to be specific when setting the objectives in order to plan for integrating certain features that should be developed. Businesses should gather relevant data and information from users to improve their quality of products and services. The main aim is to gather the relevant information through the application being developed.
Identify The Users
The success of your e-commerce mobile app will greatly depend on the users. Therefore, it is vital to identify user preferences, hobbies, habits, and opinions with regard to your mobile app. When user requirements and preferences are met, it means that your app will survive the tough market very well. It is because when users are satisfied with the mobile app, they will come back to it in order to satisfy their requirements. User retention is crucial for a business and its growth, and focusing on this step helps businesses achieve it quite easily. Along the process of defining the user and their requirements, the niche of the mobile app is also established. Therefore, it makes developing the app a much simpler process.
Choose A Suitable App Type
Choosing the correct app type depending on the requirements is essentially for building a success mobile app for an e-commerce store. There are two types of apps used for e-commerce, which are PWAs and Native apps. Here's a look at the two:
PWAs, also known as progressive web applications, are dynamic websites that function like mobile apps.
Native apps are general applications that are appropriately designed for mobile platforms like Android and iOS. Therefore, these apps must be installed from the Play Store.
These apps greatly help in improving the appeal of the e-commerce store. They also allow the storage of a large amount of data with regard to purchase trends and client behavior. This information could then be used to enhance business services and products.
Requirements Gathering And Analysis
The next step on E-Commerce Mobile App Development for an e-commerce store is to identify its requirements of it. Now that you've identified the objectives of developing the app and the users, the next step is to gather and analyze the requirements. Based on these requirements, you need to figure out the features that the app should have. This article has already covered the essential features of a mobile app in a detailed manner. Therefore, it's time to think of the design factor of integrating these features into the app. These features are must-haves in any mobile for an e-commerce store. Some apps may have additional features depending on business and user requirements.
Budgeting And Planning
As with any project, budgeting and planning plays a crucial role in mobile app development for e-commerce stores. It takes much thinking to decide on the features and functionality of the mobile app. This step involved budgeting and planning which has a great impact on the outcome of the decision. The app features should be able to meet the user requirements while also being able to fit into the approved budget. Anything that goes beyond the budget defined, needs to be reconsidered and adjusted accordingly.
Project teams should discuss with management and come to a conclusion regarding this matter. Budgeting and planning involve concluding these steps in developing a mobile app for an e-commerce store. Once this step is finalized, you can move on to the next step.
Implementation And Quality Assurance
No matter how much of an effort and dedication is put to the work, there will always be some gaps during the implementation process. It depends on factors like how competent the team is and various other factors. It's always better to be prepared for the gaps during the implementation process. That is why the app development process must include an in-depth testing strategy to ensure that it comes close to expectations, as much as possible. The strategy should include testing for reliability, speed, instability, traffic, platform, and attractiveness.
Marketing
Marketing is something that is necessary for any business. Similarly, you must have a strategy to market your mobile app for the e-commerce store. Promoting your e-commerce mobile app will generate leads and sales. It is because the app will be available for users to download and use, thereby generating revenue. A combination of strategies must be used for promoting the mobile app, including using SEO techniques. Promotional strategies to use include media platforms, blogging, and promotional offers. It is advisable to incorporate the marketing strategies while the app is still under development. It will ensure that the app is promoted even before it has been launched.
The Cost Of Building A Mobile App For An E-Commerce Store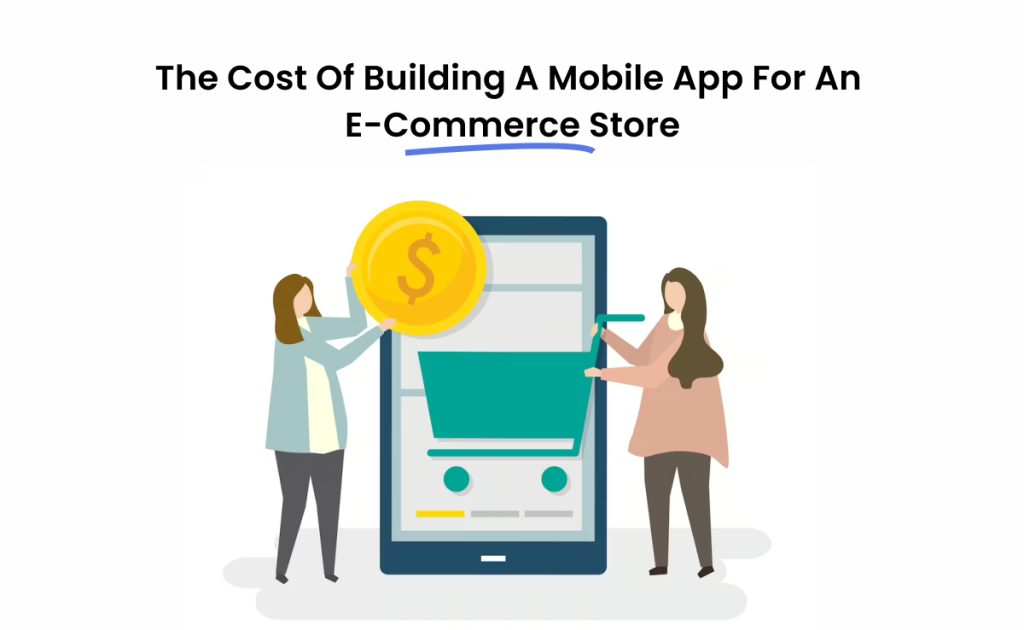 A large number of users are currently using mobile apps all around the world. Therefore, developing an e-commerce mobile app for an e-commerce store is extremely beneficial and a great success. Therefore, the exchanging of goods and services for investing in e-commerce has become very common in the modern day.
Online shopping is a rising trend and has grown significantly over time. It has become part of many people's lives these days. Apart from social media, e-commerce apps are regarded as the most prime spot for social interaction. Today, you can buy basically anything through an e-commerce store. It could be the items in your grocery list or your wedding gown, you can buy it online.
The total cost of E-Commerce Mobile App Development is estimated to be between $30,000 and $170,000. This amount is determined by several factors like the type of the app, design ability, and development complexity. The software's intricacy also affects the costs involved for development. A simple iOS app may cost $1000 to design whereas a complex app may cost over $150,000.
The following are the factors that need to be considered when developing an e-commerce mobile app for a startup.
Payment for project team
website services cost
infrastructure cost
Costs for integration of social media
Marketing & advertising costs
Maintenance fee
cost involved for updating software
How Can Cenango's E-Commerce Mobile App Development Help Your Business To Grow?
Mobile applications are crucial for launching and running an e-commerce business. The best app developers will be able handle these procedures and create a unique app reflecting your business and brand.
Cenango's highly-skilled development team has the expertise and knowledge to deliver e-commerce mobile app development services to satisfy client requirements. Our e-commerce specialists work towards creating a compelling buying experience by integrating backend structures and well-known technologies from the business world.
Get in touch with Cenango's mobile app experts to create a mobile app for your e-commerce store, with distinct features and the ability to provide your customers with an excellent shopping experience.